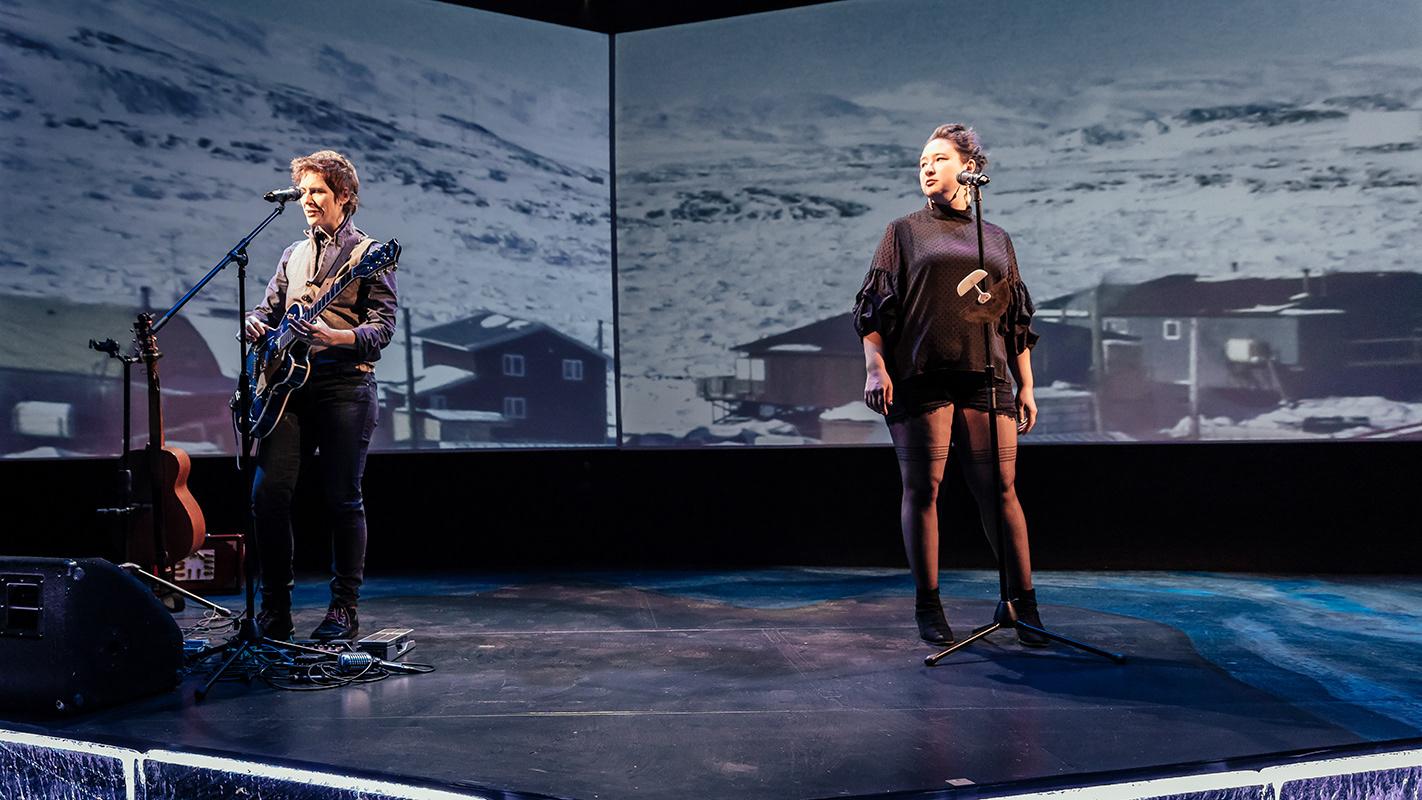 Created by Evalyn Parry, Laakkuluk Williamson Bathory, Erin Brubacher, and Elysha Poirier with Cris Derksen | A GCTC and National Arts Centre Indigenous Theatre co-presentation of a Buddies in Bad Times Theatre production
A concert and a conversation, Kiinalik: These Sharp Tools is the meeting place of two people, and the North and South of our country. Inuk artist Laakkuluk Williamson Bathory and queer theatre-maker Evalyn Parry met on an Arctic expedition from Iqaluit to Greenland. Now sharing a stage, these two powerful storytellers map new territory together in a work that gives voice and body to the histories, culture, and climate we've inherited, and asks how we reckon with these sharp tools.
In the Inuktitut language, when a knife is dull, it is said to "have no face." The word "Kiinalik" translates to mean the knife is sharp — or, "it has a face." Embodying the stories of their heritage, Evalyn and Laakkuluk put a face to the colonial histories, power structures and the changing climate that lie between them.
ᑮᓇᓕᒃ: ᐃᐱᑦᑐᑦ ᓴᓇᕐᕈᑏᑦ
ᑮᓇᓕᒃ: ᐃᐱᑦᑐᑦ ᓴᓇᕐᕈᑏᑦ, ᑯᐃᐅ ᑕᐅᑐᕋᓐᓇᑕᐅᓂᕐᒧᑦ ᓴᓇᔨ ᐃᐊᕙᓕᓐ ᐸᐅᕆ ᐊᒻᒪᓗ ᐃᓄᒃ ᑕᐅᑐᕋᓐᓈᖅᑕᐅᓱᖅ ᓚᑯᓗᒃ ᐅᐃᓕᐊᒻᓴᓐ ᐹᑐᕆ ᓄᓇᖑᐊᓕᐅᖅᐳᒃ ᓄᑖᒥᒃ ᑕᐅᑐᕋᓐᓈᖅᑕᐅᓂᒃᒧᑦ ᐱᐅᔪᒥᒃ ᓴᓇᖃᑎᒌᑉᐳᒃ ᓴᓚᔅᓴᖅᓯᒪᔪᖅ ᐃᓕᓴᕆᔭᐅᓪᓗᓂ ᐱᓕᕆᐊᖓ ᓴᖅᑭᑎᑦᑎᓪᓗᓂ ᐃᓄᐃᑦ ᐃᓕᖅᑯᓯᖓᓂᒃ ᓄᖑᑎᑕᐅᓚᐅᖅᓯᒪᓂᖓᓂᒃ ᑭᖑᓂᑦᑎᓐᓂ, ᐱᔪᓐᓇᕐᓂᖃᕐᕕᐅᔪᓂᒃ ᐊᐅᓚᑦᑎᒍᓯᖏᓐᓂᒃ ᐊᒻᒪᓗ ᓯᓚᐅ ᐊᓯᔾᔨᐸᓪᓕᐊᓂᖓᓂᒃ ᐊᑯᓐᓂᖃᖅᑐᑎᒃ.
written + performed by EVALYN PARRY + LAAKKULUK WILLIAMSON BATHORY
created by EVALYN PARRY, LAAKKULUK WILLIAMSON BATHORY, ERIN BRUBACHER + ELYSHA POIRIER with CRIS DERKSEN
directed by ERIN BRUBACHER
live video by ELYSHA POIRIER
original composition + live music by CRIS DERKSEN + EVALYN PARRY
sound by ALEDA ROCHE
lighting design by REBECCA PICHERACK
set design by KAITLIN HICKEY​​​​​​​
A GCTC and National Arts Centre Indigenous Theatre co-presentation of a Buddies in Bad Times Theatre production
Kiinalik: These Sharp Tools